truck is a 1995 ford ranger. Found a real nice deal on a full set on 31" bf goodrich all terrains on American Racing Rims. This is all I know about sizing- 31 x 10.50 R15LT . Could they fit on my truck with a 3 inch body lift?
one more thing. Would I have any problems combining a 4 inch skyjacker suspension lift with a 3 inch PA body lift? what gear should I run? I would like to stick with 33's but how would that look on a truck with 7 inches of lit?
ok thanks. Can any of you tell what kind of rims are in this picture?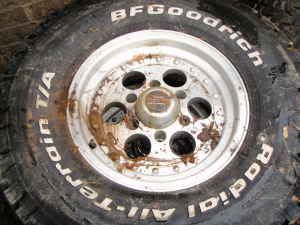 I know they're American racing, but what are they called?