Selling my 1988 Bronco II. 158,000 miles on body engine, trans and both axles were swapped at around 155000. Engine and trans had approx. 89000 miles on them at install. This truck has been built since mid 2007. From then until December2009 it was trailered to and from the trails. Since December it has seen approx 1500 rd miles and a few offroading trips. It is tagged and insured in Ohio, and aside from some funny vibrations from he tires it will run 70+mph down the freeway with no issues.
Drive train:
1995 4.0 engine, 4r55e automatic trans out of 1996 Ranger, 1354 manual transfercase from a 94 explorer. Engine had new water pump, idler pulley new plugs, wires,and fuel filter done at install . Transmission fluid and filter recently changed ( less than 500 miles ago) Transfercase fluid changed about 1000 miles ago
Axles:
Front is a d35 from a 94 explorer it has a 4.56 Yukon gear set, Aussie locker (new 11-10-10).
Has Dana 44 knuckles with brand new ball joints, axle joints, calipers, pads and axle seals. 1.25" spacers install to match rear width
Rear axle is a 31 spline 8.8 with disc brakes from 96 explorer The rear has a set of riverside 4.56's and a Detroit lunch box locker. All bearings and seal where replaced when truck was built. Running 1.25" 5 on 4.5 to 5 on 5.5 adapters to match front bolt pattern.
Lift:
3" Performance Accessories body lift.
Suspension lift is a 3" James Duff. w/ variable rate springs in front w/ 30/70 oil filled shocks. Rear is the 3" Duff add-a-leaf (NO BLOCKS). Rear shocks are 40/60 oil filled.
This thing rides nice and smooth on the rd and handles the rough trails with ease. Flexes out nicely to boot.
Other Mods: Roof rail sliders. Have had the entire weight of the truck against a tree and no rear broken window's.
Front bumper is a huge 1/4" thick piece of steel that was put on there TWO owners ago, however it has had the corners cut to gain clearance and is flush with he bottom of the frame rails.It now has the 8000# winch mounted behind it with roller fair lead on the front. The winch solenoids were moved under the hood next to the fire wall to keep them mud free. There is a winch control plug under the left head light and there is one on the dash inside the spot where the cig lighter used to be. (no more control wire running across the hood and dragging in the mud.) It has two d-rings on the front of it and two tow hooks on the frame rails.
Has a dual battery set-up. Both are mounted under hood with a battery isolator, charges both at the same time. Winch runs off second battery. Doors are pinned for easy removal.
Tires: 4 Almost brand new 35-12.50-15 km2's. ( approx 1500 mmile son them) Spare tires is a 35" off brand all terrain. Four wheels ahve brand new lostvalley jeep weld on beadlock rings installed mid september on rock crawler wheels. 5th is stock rock crawler wheel. Wheels are 5 on 4.5 bolt pattern ( half ton ford/jeep cj)
THIS IS A DEDICATED TRAIL RIG ( that is driven to and from the )s THEREFORE IT HAS DENTS ( alot of them, comes with two rust/dent free fenders) AND SCRATCHES. IT IS NOT A SHOW TRUCK! It WILL HANDLE DD DUTIES BUT IT ISNT THE MOST PRACTICAL THING FOR SUCH!
$2500 located in Roseville Ohio,
NOT LOOKING FOR ANY TRADES! CASH ONLY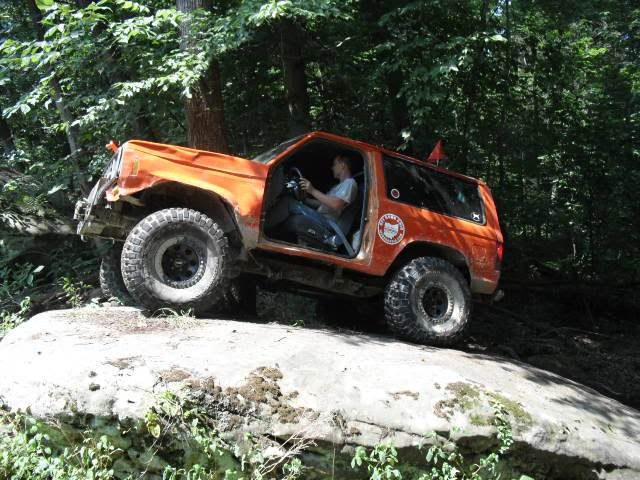 http://s239.photobucket.com/albums/f...o/Bronco%20II/
I can provide more and better photos if requested.