Planned to install some escort bucket seats and an expo console in the truck this weekend. They ended up not being as easy as i hoped. I finally gave up on the whole thing at about 4am saturday night; after the entire interior of my truck was taken apart and hauled inside my basement level apartment (apartment life is really a bitch sometimes). The whole thing was my own fault, it was just like quicksand; instead of not moving or backing out as soon as i stepped in it, i wiggled and moved like an idiot.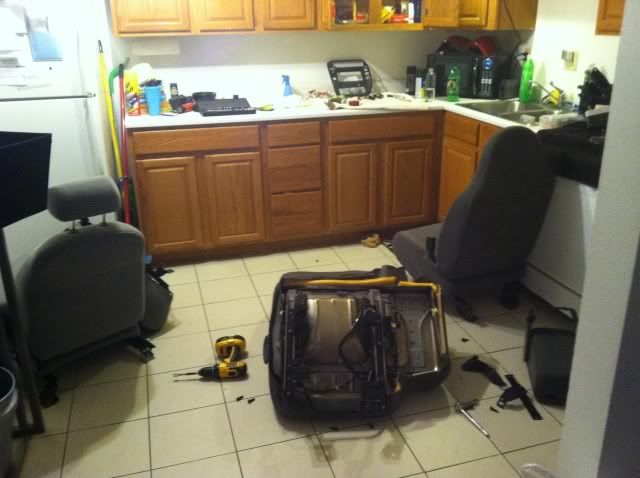 Got about 4 hours of sleep, was supposed to head to the old ladies house for the day and knew she would be pissed if i couldnt come. So, i loaded all my shit, my tools, and whatever else into the truck. Threw the 60% drivers seat in the bed and bolted the passenger seat down to the driver side just so i could make it her place. 45 minute drive later im at her place. i drop the tailgate and bust out the sawsall. At this point my give-a-fuck has worn pretty damn thin. i hack 20% off the drivers seat and start putting in work with everything else.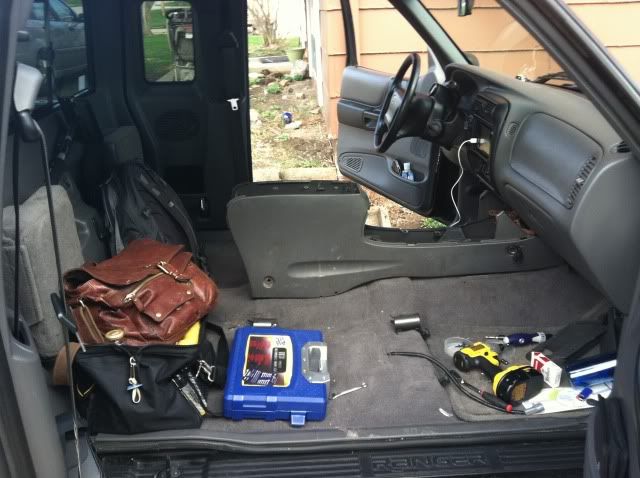 While getting the console installed i come to many findings of broken parts, and missing screws. Its very clear the fucktard the pulled this from the expo at the junkyard was a careless prick. This will be the last time i let the yard pull shit for me, im doing it myself from now on. Im out 125$ at this point, two bucket seats im not going to use and a console im already going to be looking to replace. i dont care anymore, im just getting it in so the hard stuff is done for later.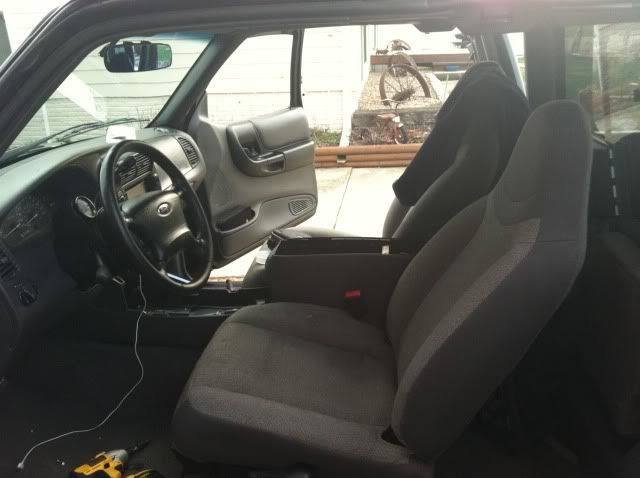 Lastly im not happy with my pioneer 3200, so i ordered a factory refurbished 4200 from ebay. it showed up friday so i wanted to make the swap to return the 3200 asap. When i finished the install on the 4200 it turns out something is fucked with it as well. it doesnt turn off, regardless of ignition position. Before someone chimes in; yes the wiring was correct, ignition and constant voltage on both wires were verified with a volt meter and pin location was double checked on all harnesses was good as well. I even plugged the 3200 back into the harness the 4200 was using and it cycled on and off as it should. i put an email in with the seller. i hope this gets taken care of asap because my window to return the 3200 is closing.
So im back to looking for a better condition console, and a set of seats that only require a bolt on track swap at the most. Also waiting on the whole deck issue. Okay, thats the end of my rant! Just had to let it out to the ranger crew!
Hope everyones weekend was better than mine!