Iíve got 5 large gold ring terminals, 4 are the same with one extra thatís a compression fit. The 4 gold terminals have a 5/16Ē mounting hole and a 7/16Ē hole for the wire. They should fit a 1/0ga wire. They all have 2 allen screws to secure the wiring & hold very tight. Two are brand new, never used while the other two were ones I used a while back, nothing wrong with them other than a little tarnished finish & a few scuff marks.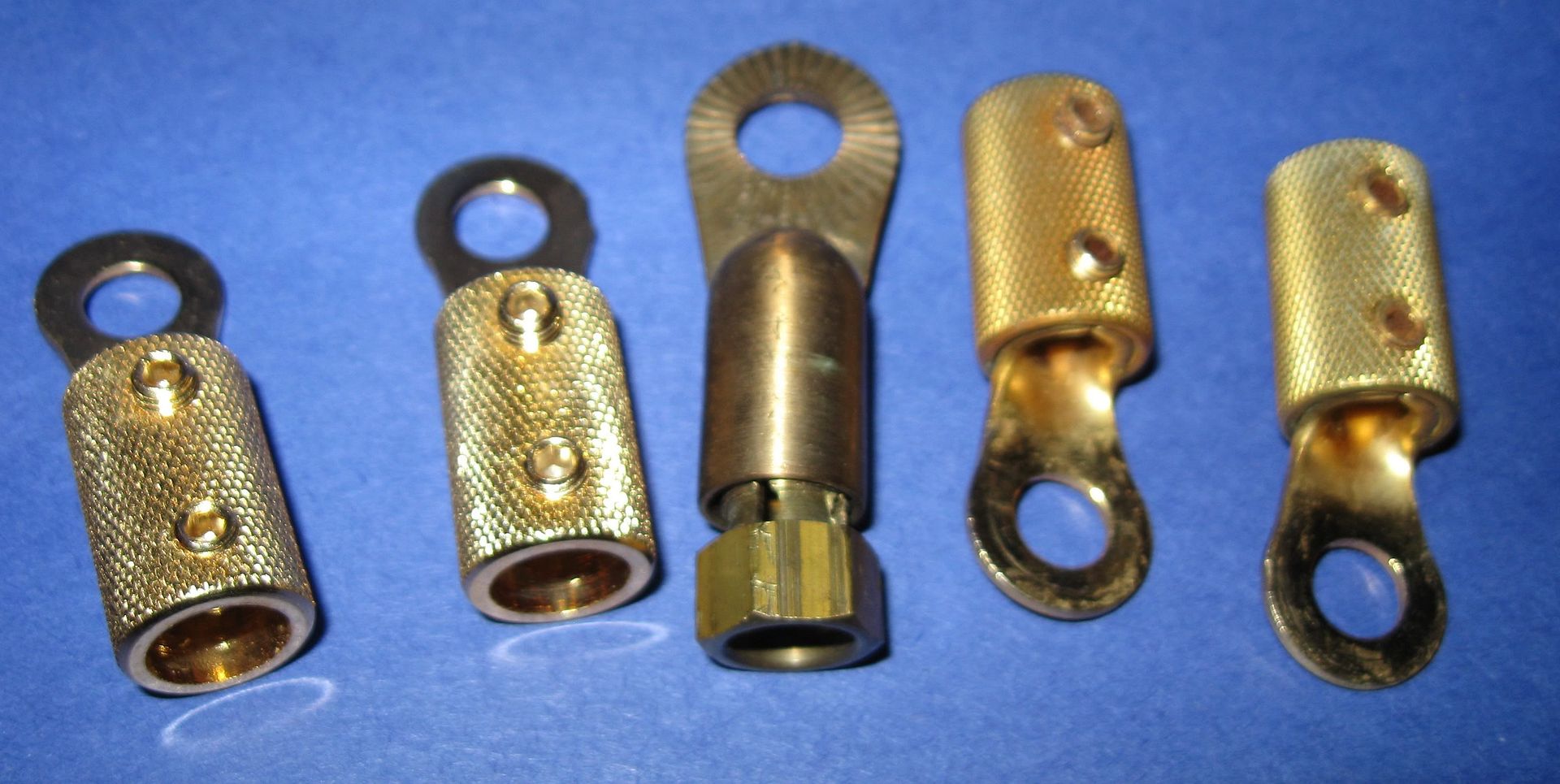 The compression ring terminal has a 3/8Ē mounting hole and will easily handle 4ga wire. Itís solid, and with a little fine sanding will look like new. Itís one Iíve had for a while in my terminal box that I no longer need.
Iíd like to get $15.00 for all 5 ring terminals, FREE 1st class shipping within the USA.
Up next I have a bunch of speaker pins. These came with kits of high end Belkin brand speaker wire. Each pin is about 1Ē long and has an allen screw to hold the wire inside. The opening for the wire is 1/8Ē and will handle a wide variety of wire sizes. These are a must if your subwoofer enclosure has those spring loaded terminal ports. Instead of stuffing bare wires into the terminal ports (and losing some power transfer) you simply slide the wire in, screw down the screw and plug the pin into your terminal ports. Makes a nice clean install.
If you prefer, you can solder the wire in the pins but you'll need a good soldering gun or torch to heat the pin/wire properly.
Iíd like to get $3.00 for a set of 4 red & 4 black terminal pins, FREE 1st class shipping within the USA. If you can find them cheaper, let me know & Iíll try to beat the price.
Iíll package as many as you need (I have several of each black/red) & Iíll try to cut you a better price if you buy more.
I know there are tons more uses for these pins too. I sharpen the ends to use as test probes for multimeters, and connect them to my small power supply for easy connections.
As always, PayPal is best for payments. Iím open to offers as well as trades.