03-14-2013, 11:16 PM
Go ahead, make my day

Join Date: Sep 2012

Posts: 1,841
Re: Could a Ranger tow the Endeavor?
---
Quote:
Originally Posted by
thatranger
To add to this, our 1995 GMC 3500 dually 7.3l gasser broke down today, its the starter, so we towed it with my dads toyota 2003 Lexus rx300 awd today. And it did it just fine. Kept it between 20-40mph (down hill speed) for safety, and it was pulling it 1.5-2k rpms just perfectly fine with the factory tow hook. :P Could of towed it at 45mph just fine, but didn't want to for it was a hilly backroad.

We choosed the lexus due to a few reasons. His 99 single cab has a 2.5L. Mine has the flareside bed, so no weight to get traction (was lightly raining as well) plus its a 5speed and no tow hitch. We have a '11 4door 4.0 5spd with tow hitch, but didn't want to hurt the clutch.

Was a little scary, since the lexus has a bad egr(I believe thats what it is) where it'll start running away (full gas). Which is scary if your at highway speed, 60mph, and it starts, the brakes will NOT slow you down at all. You will have to shift into N. Happen to me when I was at highway speed & was behind someone and it started speeding up (thought it was the curise control button stuck on acce) and kept tapping the breaks to stop, but it wouldn't, tried turning it off, still kept going & the brakes wouldn't slow it down at all & there was a car in front of me. Shifted it into N, and it revved to redline & turned it off. & no, its nots the floor mat sticking. Don't know why these toyotas like to kill people lol. But it didn't go WOT while towing, it just randomly likes to stick.
I lol'd at this: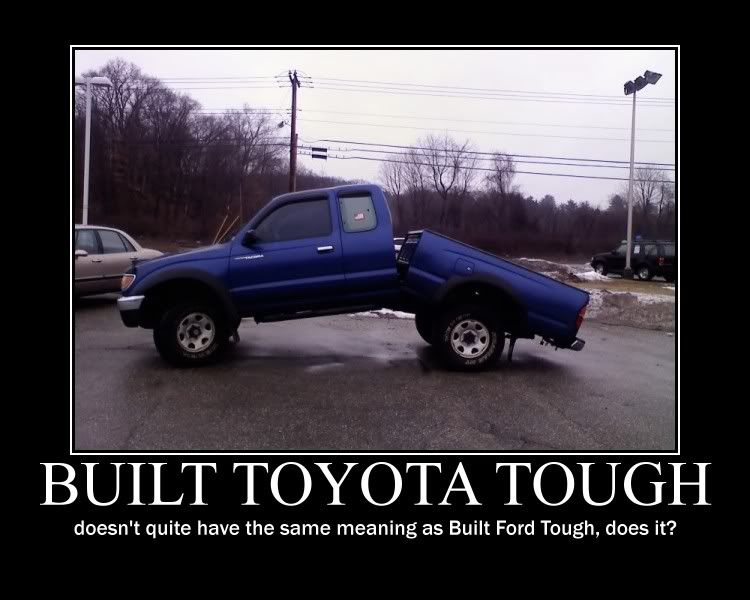 __________________
93 Ranger XL 3.0 V6
-Tint, wheels, K&N filter, Flowmaster super 44.
04 Mustang GT Vert.
-Tons of mods, supercharged 392/393