There were recently 2 threads talking about having chilled air without the actual compressor running the whole time found a mod to be able to turn it off
Just gonna copy and paste it here
Mod: G&M A/C Compressor Switch Mod
Difficulty: 3/5 (attention to detail is necessary)
Time: ~1 Hour
The idea behind this mod is to be able to control the A/C Compressor with a single switch. This duplicates the blue "A/C" switch that is found in many automobiles. You can then leave the A/C control in the MAX position, and recirculate chilled air without running the compressor. Basically, this mod will cut circuit 348 (A/C demand signal) which tells the PCM (Powertrain Control Module) that the A/C control panel is in a selection that uses the A/C compressor. This mod does not interfere with the PCM, it just interrupts the signal send from the A/C panel.
This procedure was researched using the Ford service CD and has been verified by technicians who work at Ford dealerships.
I want to credit my bro Mark (Red Dog) who helped me design this mod, which is why I call it the G&M A/C Mod.
Tools/Equipment needed:
* Screwdriver Set
* Dremel Tool/Drill
* On/Off Toggle Switch
* Spade wire connectors
INSTRUCTIONS...
To start, you must remove the center panel in the dash. You begin by removing the two screws above the A/C control panel. Then, get your fingernails behind the panel and pull forward. It will slide out towards the rear of the truck.
To remove the panel, you disconnect: The radio (red connector), Antenna (silver banana plug), Cig Lighter (two connectors on left), Aux 12 volt power plug (connector on right). If you have fog lights, there is an additional connector on the right side.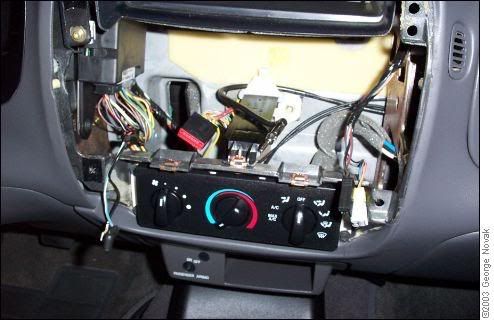 Here's the Ford diagram of all the wires with the entire dash apart. The connector you are after is 294A. It has 4 wires in it, it's red, and it connects behind the A/C panel. It's a little right of the center.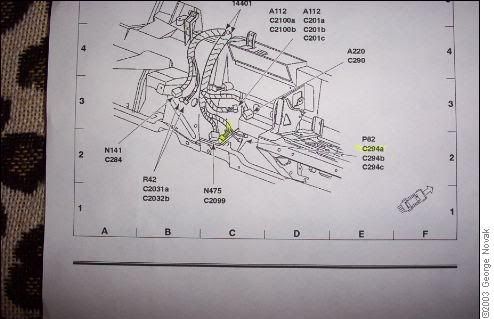 This is Connector 294A under the antenna plug. Use a screwdriver to release the catch. The violet (purple) colored wire on top is the one we will cut for adding the switch. I added two short wires with spade connectors to make it easier.
This is the Ford chart for connector 294A. The A/C demand circuit is where we add the switch. This will interrupt circuit 348, which tells the PCM to turn on the compressor. Cut the Violet wire and add your switch.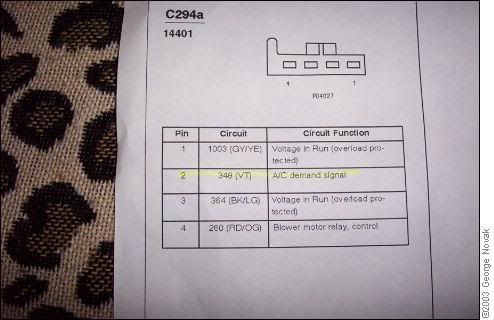 I installed my switch above the Cig Lighter using an existing mounting spot. To get the area flush, I first cut off the raised plastic mounting box area.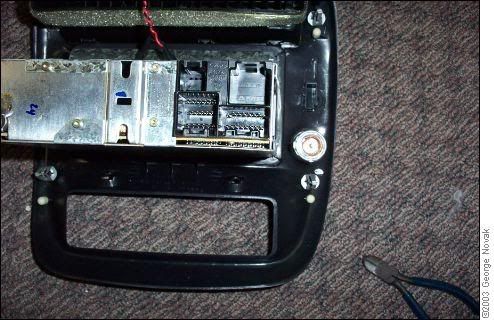 I next used my dremel to cut and smooth the area, so my switch will fit flush. Then drill the proper size hole and install the switch. I used a metal one from Home Depot after my plastic Radio Shack one broke it's nut.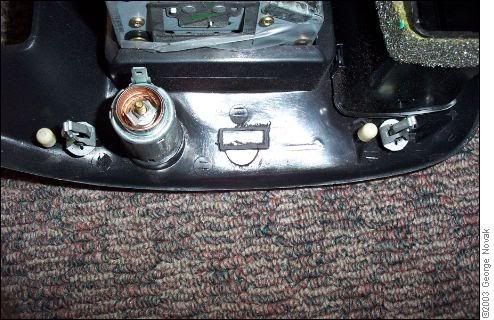 Now put the panel back, making sure the radio slides into it's rail. Reconnect the radio and other connectors. Connect the new switch (I used spade connectors). Replace the screws over the A/C control panel.
Mod Complete: