Has anyone ever used, known someone who's used, or have any thoughts about the improvements that installing a flex pipe like below would make to improve engine muffling? This is one of many configurations.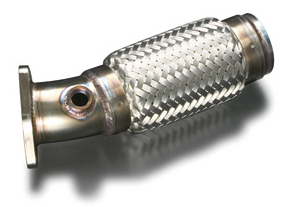 I'm going for more quiet.
I got the idea when we first started making the new Tauruses at work, and I noticed that they would be idling and you could be inside and forget the engine was on. But you could glance at the tach or goose the throttle to check. Now the Explorers we started making are so quiet that you can goose the throttle in park and still be fooled into thinking that the engine is off.
Along with all of the counter weights and shot canisters welded onto our exhaust systems, we use y-pipes with built in flex pipes. So now I'm jealous and I want the same for my Ranger. Or at least look into it.