THIS IS ALSO UP ON R/F, JUST TRYING TO EXPAND MY MARKET
2000 Ford Ranger 2WD 4cyl 7.5 Rear Axle
128,000 miles
3.73 Gear Ratio
Open Differential
9 inch drum brakes
Ford Axle Code 86
Hauling capacity of 2750 lbs
Spring Over Axle
Newer brakes, drums, and hardware. Practically new. About 5k on them. Not assembled.
Hardly ever used to tow or haul.
Recently inspected the differential, the ring and pinon are in good condition, No chips or nicks. I can remove the cover for further inspection before purchase.
Fits 2.3, 2.5, 2.9. 3.0 Ford Rangers from the 80s to current. No sure of exact years.
Will fit Ford Aerostar vans and Bronco IIs with the smaller engines.
Also fits V6 Mustangs and various other small SRA Fords with modification.
Not for use with Explorers, 4.0 Rangers, 4.0 Aerostars, or V8s of any kind.
With a "lunchbox" type locker and some TLC this is a very strong axle.
Mustang V6/GT disk brakes are a direct bolt-on to this axle.
Needs new fluid (75W-90)
Needs a new pinion seal, axle seals are good
Axle sensor not included. You will need the one compatible with the vehicle you are putting it on.
Bearings are good
Needs new brake lines
Needs new wheel cylinders
I am asking $50 OBO
No shipping. Local pick up only. Maybe meet within the Tri-State (OH, PA, WV)
---------------------------------------------------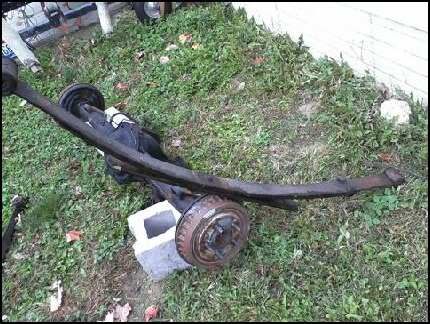 I also have a 2000 Ford Ranger 2WD Passenger Side Leaf Spring
Good condition.
Hardly ever used to tow or haul.
Spring code A3
Bushing are ok.
Asking $20 seperate, or $10 with the axle.
No shipping. Local pick up only. Maybe meet within the Tri-State (OH, PA, WV)