Hi all, I'm a complete newbie when it comes to anything beyond doing an oil and filter change on my Ranger, I'm hoping I can at least get an idea of what's going on. Basic info, it's a 2005 3.0L V6 (so hopefully this is the right forum to post to!) I've got an oil drip that's been slowly getting worse, and I can't pinpoint the source. I've got some photos to help, marked up with the awesome power of MS Paint.
This is a shot from the underside, front of the truck is the right side of the photo, back of the truck is the left side of the photo, driver side is at the bottom of the photo, passenger side is the top of the photo. Landmarks are indicated with colored arrows and text.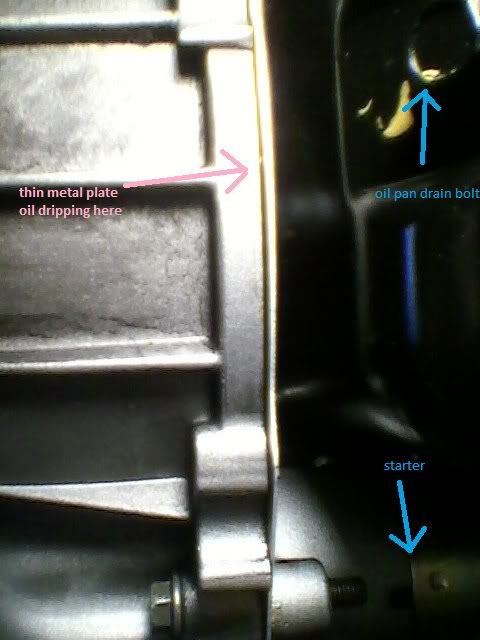 This is a shot of the thin metal plate from the first photo at a different angle. In this shot the passenger side is the left edge of the photo, the driver side is the right side of the photo, the pavement is at the bottom of the photo, and moving into the photo is the back of the truck. Here I've unscrewed two bolts and removed a cover plate to reveal... whatever that thing is (I have no idea). The plate had a thin layer of fresh oil on the underside when I took it off.
Basically, what am I looking at in these photos? Whatever is in that hole there in the 2nd picture I can't really access (the hole is too small), but it looks like I can't get the entire metal plate off without unbolting the starter and one other really huge bolt that is further to the upper left from what is shown in the 2nd picture. I don't want to bother with this if whatever is under that plate isn't going to be something I can fix...
Just to note, I've checked the area around the oil filter (as best I could anyway, the filter is a pain in the butt to reach!) and nothing seems to be problematic there, at least nothing so big as to cause the dripping at the bottom of the metal plate. I also looked around the bolts of the oil pan and there doesn't seem to be anything there either.
Thanks for any help!